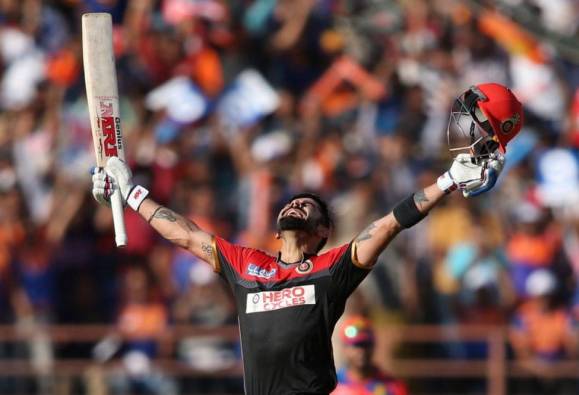 Virat Kohli celebrates his maiden T20 century. (BCCI)
Rajkot: Royal Challengers Bangalore captain Virat Kohli hit his maiden T20 century against Gujarat Lions at the Saurashtra Cricket Association stadium here on Sunday and helped his side post 180 for 2.
After the brilliant knock, Kohli said he didn't expect to hit a century in this match as the pitch was difficult to play shots freely.
"Good feeling, game's not over. Today was one of the days I didn't expect myself to hit a hundred," Kohli said on Sony SIX after the century.
India's Test captain is in top form for the last couple of months. In the five IPL matches he has played so far, Kohli has scored four fifty-plus scores.
"Just wanted to hit good areas.
"Even against Delhi, I was 75 at the time out, Dan told me hundred was there.
"That was the only thing left till now. (I got) run out on 99 once; was not out at 94 once. Never really thought about it today though. Just concentrated on hitting the gap," he said.
There was a moment in the match where Kohli looked in trouble with his ankle. But he recovered and completed his first century.
"Sort of slipped going for a second, sprained in my ankle, but that was where fitness counts, the other muscles took over," he said.
Kohli scored first 50 runs in 40 balls but took only 23 balls to hit the next fifty. There was only one 6 in his innings that came in the last over. He hit 11 fours.
Virat Kohli hits first T20 century, says didn't expect it
Oleh
Cricket Earth